Blimps, Bitches & Birthdays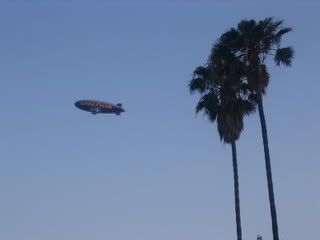 When I was growing up, one of the most magical things that could happen was if The Good Year Blimp happened to sail into your neighborhood. It was like seeing a spaceship from Mars. The other evening I was working at my desk & heard a familiar "whirr" I went outside & looked up & there she was! I felt like I was 10 years old again…silly, I know, but true

I am loathe to admit this, but I'm afraid I am quite enthralled with PARIS HILTON again. Seeing her emerge from prison early this morning ,I thought, wow! She looks great & somehow changed!
She seemed sweet & shy (??) and vulnerable. Less makeup, less faux hair, less fake tan…just… less, & yet so much more! And if all these stupid so-called "news" organizations want to pay her millions of dollars for an interview, she'd be stupid not to take it. Although every "respectable" network is now distancing themselves from having desperately sought the big Paris "get" including Barbara Walters & The Today Show which at one point was offering 1 Million Dollars.

This Monday, July 1st would have been Diana, Princess of Wales' 46th Birthday. And August will mark the 10 Anniversary of her death.
I've just finished Tina Brown's The Diana Chronicles. I highly recommend the book. Though it covers much that we think we know there are quite a number of new details. All of which leave an overall impression of waste & sadness; that this was an extraordinary woman who was only just beginning to put many of her demons behind her & re-emerge on the world stage in a grand & deep way that would have been fascinating to watch. One very sad anecdote has Diana upset at the thought of losing her Royal title of HRH. Her young son, Prince William consoles her by saying, "Don't worry Mummy, I'll give it back to you when I am King!" I'd forgotten what a bitchy writer the former editor of Vanity Fair could be. And Ms. Browne seldom misses an opportunity to inject herself into the Diana story but she had & has what is still an extremely valuable assest: ACCESS! Her rolodex is crammed with celebrated names who are guaranteed to return her calls.

Princess Diana's Birthday Cake
Recipe #84781
4 ratings
This recipe appeared in the February 1988 issue of Woman's Day magazine and was reprinted in our local paper today. According to the article, "Diana had a special fondness for this cake because it was served at her childhood birthday parties." The baked layers can be wrapped and refrigerated up to three days or frozen up to three months. Unwrap and bring to room temperature before assembling. Completed cake can be refrigerated up to four hours before serving

For the cake
6 large eggs

1 1/2 cups granulated sugar

1/3 cup water

1 teaspoon vanilla

1 1/3 cups all-purpose flour, mixed with

1/2 teaspoon baking powder

For the filling
3 cups whipping cream
1 tablespoon vanilla

1/2 cup granulated sugar

3 pints strawberries, rinsed,hulled and sliced (about 12 ounces each, reserve some for garnish)
Not the one? See other Princess Diana's Birthday Cake Recipes
1. Preheat oven to 350F.
2. To make cake: Grease bottom and sides of two 8- or 9-inch round layer-cake pans.
3. Line bottoms with parchment or waxed paper; grease paper.
4. Add granulated sugar to each pan, tilt to coat bottom and sides; shake out excess.
5. Beat eggs in a large bowl with electric mixer on high speed until pale, about 1 minute.
6. Gradually add the 1 1/2 cups sugar, beating about 2 minutes (or more, as needed) until mixture is thick, tripled in volume and forms a slowly dissolving ribbon when beaters are lifted.
7. Working quickly, stir in water and vanilla.
8. Fold in flour mixture just until completely blended.
9. Pour into prepared pans.
10. Bake 30 to 35 minutes until tops are lightly browned and toothpick inserted near center comes out clean.
11. Cool in pans on rack 10 minutes.
12. Run thin-bladed knife between sides of pans and cakes to loosen.
13. Invert pans on rack; peel off paper and cool completely.
14. To make filling: Beat cream and vanilla in a large bowl with electric mixer until soft peaks form when beaters are lifted.
15. Gradually beat in sugar until cream is of spreading consistency.
16. To assemble: Slice each layer in half horizontally, using a long serrated knife.
17. Place one layer on serving plate, spread with 1 cup whipped cream, top with one-third of the sliced berries.
18. Repeat with two more layers.
19. Place remaining layer on top; spread remaining cream over sides and top.
20. Garnish with reserved berries.
21. Refrigerate until ready to serve.