RATS!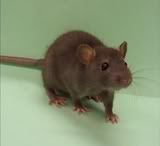 Thank God for that little Paris Hilton! In the absence of Lindsay, we'd all be compelled to contemplate the disaster that is Iraq; if this PARIS IN THE POKEY Drama were not so oddly compelling. I swear the whole City of Los Angeles is up in arms over Paris' being released today from Prison after serving a paltry 3 days of a 45 day sentence, due to a "medical condition"
Various reports have the cause of Hilton's early furlough being an "all-over body rash"!>(Note to Paris: Honey I told you to refill that VALTREX Prescription!)But PEOPLE Magazine also is indicating that P may be suffering some sort of nervous breakdown.

But This just in:
LOS ANGELES — Paris Hilton's release from jail may be short lived. Hours after she was sent home under house arrest Thursday for an undisclosed medical condition, the judge who put her in jail for violating her reckless-driving probation ordered her into court to decide if she should go back behind bars.
Hilton must report to court at 9 a.m. Friday, Superior Court spokesman Allan Parachini told The Associated Press.
"My understanding is she will be brought in in a sheriff's vehicle from her home," Parachini said.
The celebrity inmate was sent home from the Los Angeles County jail's Lynwood lockup shortly after 2 a.m. in a stunning reduction to her original 45-day sentence. She had reported to jail Sunday night after attending the MTV Movie Awards in a strapless designer dress.
She was ordered to finish her sentence under house arrest, meaning she could not leave her four-bedroom, three-bath home in the Hollywood Hills until next month.
City Attorney Rocky Delgadillo complained that he learned of her release the same way as almost everyone else _ through news reports.
Then, late Thursday, he filed a petition questioning whether Sheriff Lee Baca should be held in contempt of court for releasing Hilton _ and demanding that she be held in custody. Superior Court Judge Michael T. Sauer's decision to haul Hilton back to the courtroom came shortly after.
"It is the city attorney's position that the decision on whether or not Ms. Hilton should be released early and placed on electronic monitoring should be made by Judge Sauer and not the Sheriff's Department," said Jeffrey Isaacs of the city attorney's office.
Sauer himself had expressed his unhappiness with Hilton's release before Delgadillo asked him to return her to court. When he sentenced Hilton to jail last month, he ruled specifically that she could not serve her sentence at home under electronic monitoring.
Delgadillo's office indicated that it would argue that the Sheriff's Department violated Sauer's May 4 sentencing order.
I'm soo relieved! I didn't know where the hell I was going to wear the above Tshirt purchased from my friends atGAWKER


CALLING ALL CELEBS: If you want to behave badlly & NOT get caught, I'd do it at 9:00 am tomorrow (Friday) Since every paparazzi & reporter in the free world will be at the Courthouse covering Paris' arrival…you have a pass!

Speaking of sympathetic figures (?!) that sweet little, AMERICAN IDOL winner JORDIN SPARKS has just begun her "reign" and some bitchy anorexic shrink, or nutritionist or something named Mimi Roth is calling her out for being a "full-figured gal." Roth says when she sees Sparks she sees: "diabetes & high cholestorol" & that Sparks is a "vision of unhealthiness" Ms Sparks' legion of fans have begun a campaign of death threats against Ms. Roth! I wonder if they've set up a phone bank of 800 numbers!??

You want to see a real vision of unhealthiness? Check out the the BRENDA DICKSON WEBSITE Ms. Dickson (of whom I've never heard) & pictured above at Christmas time, apparently was (is?) a daytime star who some years ago played the character Jill Abbott on The Young & The Restless. This role led to her greatest triumph: winning a People's Choice Award for Best Villianess!! A bitter divorce has brought Ms Dickson back into the headlines. And the wonderful people atA SOCIAL LITE'S LIFEhave resurrected Brenda's Classic 80's Special:
Brenda Dickson: Welcome to My Home!. You gotta see it to believe it!




And in one of my better segues:

Animal Services seizes 120 pet rats
By Francisco Vara-Orta, Times Staff Writer
June 6, 2007

An 81-year-old Wilmington woman was found Monday afternoon by Los Angeles Department of Animal Services officers in her home with more than 100 rats and 35 other animals she kept as pets.

Wanda Langstom was taken to a hospital to be treated for animal bites. Her arms were covered with open wounds that were probably caused by her animals, said Annette Ramirez, an animal control officer.

Animal control officers also seized the animals, which included about 120 rats, most in cages but some running loose, 25 rabbits, a dog, six parakeets, a quail and a cockatiel.

"Langstom basically became overwhelmed at how quickly the rats reproduced. She said it just started with two but it got out of hand," Ramirez said. "Hoarding pets is something we see in Los Angeles frequently so it's not actually that rare a case."

Members of Animal Services' Anti-Cruelty Task Force visited Langstom's home in the 1100 block of Laguna Avenue on Monday to investigate "deplorable conditions," as described by a tip from someone who had visited Langstom's home earlier that day after seeing an ad for a rabbit in a local newspaper. "Once inside, the person saw all the cages and how the situation was bad for both the animals and the resident," Ramirez said.

Most of the animals were healthy, Ramirez said. A veterinarian was treating all of the seized animals, which are available for adoption in San Pedro at the Harbor Animal Care Center. The center's phone number is (213) 485-8755.

It always "just starts with two" doesn't it?