June Gloom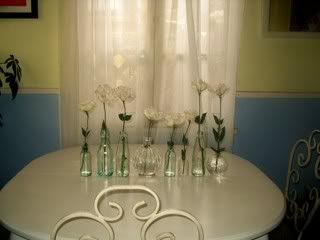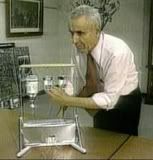 God! Was it dreary in L.A. today! Gray & cloudy the whole day. This phenomenon of June Gloom refers to the fact that this month the sun hardly ever shines! The sun finally comes out only to SET around 7:00, bitch! Bitch! Bitch!

The weekend was actually rather pleasant. There are so many nice flowers in the markets now. You cannot afford to NOT buy them. I made some nice centerpieces with lovely faux moss-covered pots filled with white hydrangea. I also made a fun centerpiece from various Italian soda & olive oil bottles filled with single blooms of staggered lengths. It works best on a long rectangular table & can be really striking!

DR DEATH AT LARGE! Dr. Jack Kevorkian was released from prison over the weekend. Jailed for having illegally assisted in the suicides of 130 terminally ill patients, Kevorkian remains unremorseful. Glad he's back in the news though! I used to have a joke in my "act" that went: "Yea…I'm so depressed I have DR KEVORKAIN on SPEED DIAL!"

The behind the scenes battles at the a.m. chat shows is getting uglier! PAGE SIX REPORTS:

CHILDISH staffers at the "Today" show have been reduced to homophobic name-calling about their rivals at "Good Morning America" - Diane Sawyer, Chris Cuomo, Robin Roberts and Sam Champion. A network source says," 'Today' staffers, from top to bottom, executives to interns, refer to 'GMA' as 'Gay-MA' "and snicker about the hosts."GMA" has been gaining in the ratings on No. 1 "Today" and cut its lead in half. For their part, the "GMA" folks are said to refer to "Today" as "Yesterday." Reps for both shows declined to comment
This is rather sad on the part of TODAY! Since a number of GMA correspondents are actually gay!

And you know what? GMA is deservedly winning this race! I don't think its MEREDITH VIERA's fault, but the show sucks! I no longer give a damn "WHERE IN THE WORLD IS MATT LAUER?" And last week they had New York Real Estate guru, BARBARA CORCORAN do a segment. Wherein Ms. Corcoran re-staged a home that was not selling. She claimed to have managed this feat for under $100! But what was so patently false was that Corcoran had a staff of at least 20 pros (landscapers, house painters, cleaners, "de-clutterers") do all the work. And unless these folks were Volunteers from HABITAT FOR HUMANITY the cost of labor for all this work would have been in the thousands of dollars! But this is the least of it! Do we really need DR. NANCY SNYDERMAN on EVERY Story?? I say BRING BACK KATIE & solve both NBC's & CBS's problems in one fell swoop!


OH my GOD!! I am still reeling from Sunday Night TV!! I said I was over THE SOPRANOS, but damn! that episode was riveting! It's like Shakespeare for modern times! JAMES GANDOLFINI is nothing short of heroic. And does anyone NOT love CARMELLA??? That EDIE FALCO is never not stunning! I followed THE SOPRANOS with the finale of my absolute favorite show: THE TUDORS! And I so wish I could tell you that I have managed to rid my thoughts of the scene in which HENRY VIII was shown to be jerk*** off while watching Anne Boleyn through a curtain, but when Henry is played by JONATHAN RHYS MEYRS with THAT body such is not the case! With JRM, MARIA DOYLE KENNEDY, & the death–defying SAM NEILL this show is truly a primer in TV Acting!