"Great Day In The Morning!"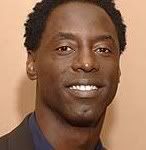 TV GUIDE is breaking the story that Grey's Anatomy star, Isaiah Washington has been fired! Or as they say in TV Land, his contract is not being picked up. You'd think that given how I've railed against this man, I'd be happy, but I'm just sad. I'm relieved that ABC Executives have basically said that hate is unacceptable in the workplace. That somebody in power has determined that this is a serious matter (despite show creator, Shonda Rhimes laughing about it at The Golden Globes) I am gratified that a major TV Network thinks this whole incident does not reflect well on them; despite the hypocrisy of a Civil Rights Organization, the NAACP giving Washington an "Image Award" 3 Months ago. I do have a sense of justice being served now that Washington joins DON IMUS in the fired-due-to-hate>-speech Hall of Fame. But overwhelmingly, I just feel a sadness that an evidently very fine actor, after years of (I presume) struggling, finally hits "the Mother lode" and lands a well-received , big hit, high- profile, series which has & will run for years, and through some seriously disturbed flaw, publicly self-destructs & blows it.To further prove the point, upon hearing the news Washington allegedly uttered the famous Peter Finch in NETWORK's line: "I'm as mad as hell and I'm not going to take it anymore!" huh???
On a lighter note:

I'm always relieved when my girl, MARTHA STEWART, drops the just-plain-folks routine & returns to her DOWAGER EMPRESS ways!
PAGE SIX reports the following:

A DRIVER for Martha Stewart was arrested on Tuesday, but the exact circumstances are a bit murky. After Stewart left her Bedford home early to make an appearance on "The View," she noticed on the ride into town that her car was being followed by a police cruiser. When her car stopped at the "View" studios on the Upper West Side, it was surrounded by officers, who promptly arrested her driver. A visibly upset Stewart went up to her dressing room and, according to a source, "started shouting loudly to an assistant over the phone." The domestic diva yelled, "How could you do this to me? Don't you do background checks on people? He was Egyptian! What do I pay you people for?" Our spy added, somewhat unnecessarily, "She was furious." A rep for Martha Stewart Omnimedia told Page Six: "The company confirms the driver was arrested yesterday. He was a temporary employee and had only been with MSO a short while." The rep refused to give us the driver's name or what he was busted for. An NYPD rep said he could provide no information without a name.


"What do I pay you people for?" Certainly ranks right up there with the common celebrity-without-a-reservation line: "Don't you know who I am?" But what's with the "He was Egyptian" line? Does Martha think he was some kind of terrorist??