tap...tap...tap...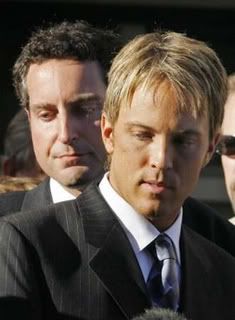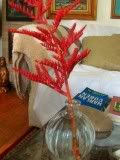 What I can't get my head around (pardon the expression) is Idaho Senator Larry (he's in, he's out, he in again) Craig didn't even know what the person in the next stall looked like, let alone that he was a cop. Yuck!

For the most sensitive, accurate, insightful assessment of the Sen. Craig situation, I give you…CINDY ADAMS! Yep Joey's widow & New York Post columnist has weighed in with her opinion of the whole sordid mess. And it's brilliant! I've been reading The Post since I was 15 years old & even now I don't know what the hell Cindy is saying half the time. She has a definite "patois" much like E's Ted Casablanca, but at least Ted's column comes with a translator key.
There's no possibility of misconstruing Cindy's September 4th piece:

I HAVE nothing for this ruined ex- politico ex-senator ex-nice family man Larry Craig. Never met him. Never heard of him before. I don't care a fig about him. I don't care about Idaho either. I don't even know where that is, other than you get to Chicago and make a left. Aside from a baked potato topped with sour cream, who-the-hell ever makes mention of Idaho? So, I have no horse in this race. It's just that in my limited, not-very-smart view, his guilt is primarily hypocrisy.
The rest of the crime, if in fact Craig is gay, is of our making. The tawdry solicitation leaves us partly to blame. Draping homosexuality in shame is what forces the weak to hide and lie and rail against it publicly in order to cover themselves privately. A guess would be he spoke and voted and campaigned against it in fear for himself. To draw a curtain around his own being. Those Enron guys probably didn't start out bilking billions. They started small. A little here, a bit more there. It's always the first step. Suddenly you're in it up to your eyeballs. Same with this shivering little scared mess of a man. Terrified of his own self, he early on made one statement. Then maybe had to back it up. Then he maybe enlarged it. All in mortal dread that his innermost voice might make itself heard.
Possibly someday, if all of us, each with our own demons, could wash away the stain of whatever tints our sexuality, this pathetic soul would never have picked a bathroom for a bedroom.

Thanks kid! (As Cindy herself would say)

Speaking of other LARRY's caught in compromising positions…
The tabloids & blogs are screaming with the story of the skankiest coupling since AMY WINEHOUSE met Mr. Amy Winehouse & that would be LARRY BIRKHEAD & HOWARD K. STERN. According to a new book by RITA COSBY called BLONDE AMBITION: The Untold Story Behind the Death of Anna Nicole Smith; Larry & Howard were (are) lovers who made a deal to share little Danielyn & her (possible) millions. Ms. Cosby even claims that there is an actual video tape showing the gruesome-twosome engaged in a sex act and that the late Ms. Smith knew that Birkhead was gay but chose him for his DNA so that she would have a blonde/blue-eyed baby. I always did think it strange how quickly these two former adversaries "kissed & made up" maybe this explains it.

I found these cool red flowers at the flower mart the other day. A type of bromeliad they look really pretty in a plain glass or white container. They remind me of coral, which is still so hot right now. Throw some sand & shells on the table & a few of these babies in milk-glass vases & viola! instant clam-bake!