Love That Merv!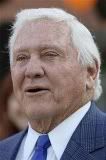 "I'm still here. And I do everything wrong. Not on purpose, but I always have. I smoke & have all my life. I eat too much. Exercise? I take a taxi to a taxi!"- Merv Griffin on the secret of his longevity.

"Stay Tuned."Merv's suggestion for his tombstone

Today was one of those days when you think, "Oh, THIS is why I live in Los Angeles!" Gorgeous! Clear, sunny, bright, not a cloud in the sky. Spent the day in Venice Beach where they have so many lovely, nursery & little garden shops full of antique garden décor & furnishings. Fun to window shop, but a little pricey for TheGayGardener whom, as you know likes to be fabulous AND frugal!

The brightness of the day was dimmed quite a bit by the announcement of the death of Merv Griffin at 82. When I was a kid, after a long torturous day in school I remember rushing home to watch The Merv Griffin Show on ABC at 4:00. (Oprah's main time slot now!) The kind of talk show Merv did would simply not be possible now. He had absolutely nothing in common with the post-ironic-interview-as-parody, David Letterman; or the fatally-unfunny, Jay Leno. Or Ellen for that matter. In these hyper-commercial times Celebrities just appear on these shows to talk-up their latest projects for no more than 7 minutes. Merv actually had conversations! He listened, that was his great gift. And the guests!! Every few months he would bring out the rotund, black-clad, ORSON WELLES. Merv would ask a question & Orson would pontificate for the next hour and it was fascinating. The list of people he gave their first break to is mind-boggling. He even had Dr Martin Luther King, Jr. on before his assassination. My favorite shows were the SuperModels Shows. Merv may have even coined that term. He would bring on Modeling uber agent, Nina Blanchard and she would introduce some of her "stable" who would come on & chat for a bit. Such unknown names as CHERYL TIEGS, CHRISTY BRINKLEY & the first male SuperModel, JACK SCALIA (in a tux!) I learned so much watching his shows including the correct pronunciation of RoDAYo Drive. He will live on through his creation of JEOPARDY (though he credits his ex-wife, Julann with the idea) as well as WHEEL OF FORTUNE. (He once said he chose VANNA WHITE from a field of thousands of letter turner applicants because like all the great stars, Vanna's head is bigger than her body!! Marilyn Monroe being another prime example)
There have always been rumours, despite his marriage which produced one son before ending in divorce, that Merv was gay. I have no idea if this was true. All I know is that this young gay boy growing in Willow Grove, Pennsylvania was wild about Merv and wanted to be like him.

A recent study shows a link between breast implants & increased suicides in women. If this is true we'd better get used to the idea of returning to Shakespearean times where the men played all the roles even the female ones, because half of SAG would be wiped out! Forest Lawn would run out of room. It's been so long since I hugged a woman in L.A. & didn't get the wind knocked out of me I can't even remember when.