LILIBET vs. LIEBOVITZ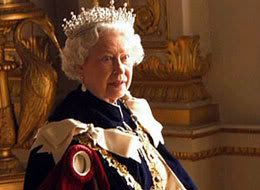 You may have seen this story in THE DAILY MAIL yesterday that I am still laughing about.

Famed photog ANNIE LIEBOVITZ was invited by the BBC Series "A Year With The Queen" to take an official portrait of the monarch to commemorate her recent trip to the United States.

ACT I
SCENE I
INTERIOR BUCKINGHAM PALACE QUEEN'S DRAWING ROOM

The Queen arrived in white fur stole, gold-embroidered evening dress, Order of the Garter robes and diamond tiara, as requested. But Leibovitz, a perfectionist who once persuaded Whoopi Goldberg to pose in a bath of milk, had a change of heart.

"I think it will look better without the crown," the film shows her informing the Queen. "Less dressy. "The garter robe is so . . . extraordinary."

"Less dressy?" the Queen says in response to this display of lãse-majesté. "What do you think this is?"

The Queen is then shown walking angrily from the drawing room. "I'm not changing anything," she fumes at a flunky. "I've had enough of dressing like this, thank you very much."

CUT


Fortunately an agreement was brokered and Leibovitz produced an acclaimed portrait, featuring the Queen gazing wistfully out of an open window, that was compared favourably with Cecil Beaton's formal pictures of the monarch's mother.

Leibovitz, 56, recalled: "She entered the room at a surprisingly fast pace, as fast as the regalia would allow her, and muttered, 'Why am I wearing these heavy robes in the middle of the day?' She doesn't really want to get dressed up any more. She just couldn't be bothered and I admire her for that."

Ahhh, as a queen myself I have often wondered aloud: "Why am I wearing these heavy robes in the middle of the day?

But Liebowitz attitude of "uuh, Betty? Can we try one without the hat?" is beyond the pale. Priceless!


R.I.P. LADY BIRD JOHNSON. The former First Lady may not have been a Queen but she behaved regally & well throughout her long public life. The fact that our highways are no longer littered with hundreds of billboards & trash; but instead are alive with beautiful native wildflowers, plants & trees, is solely thanks to The Highway Beautification Act commonly known as The Lady Bird Bill.