This Little Light of Mine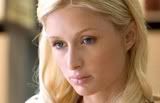 That Gardening & Dating guide I wrote had better be published soon because I am pooped!
So I'm at LAMPS PLUS On Sunday afternoon. It's their Summer Sale & I think they do a really good job of following lighting & home decor trends & knocking them off cheaply. I got a huge iron candle chandelier for $59. The other fixture I admired was a crystal chandelier that was really beautiful but the retail price was over $5,000. If this was made of real imported crystals the retail would have been 5 times that at least. Anyway…I'm waiting a long time for my purchase to be rung up when I notice this pretty girl with long tanned legs & a great handbag, talking on her cell phone. I think: "mmm I know her!" I'm talking on my own cell phone when it hits me:"That's Nicki Hilton!" I turn around and see a tall blonde being helped by a sales person. "OhMyGod!" IT'S PARIS!!!! PARIS HILTON AT LAMPS PLUS! ON A SUNDAY! And of course she's buying that damn chandelier that I wanted. (PARIS: We have the same taste!) In a flash she's standing next to me. What do I say? Have you ever read my blog Paris?? : I'm sorry Paris!" "Forgive me Paris!"

"Excuse me" comes out of my mouth before I can stop myself. She turns & smiles. And I swear I'm dumbstruck. She is so pretty in person. Clear bright eyes, gorgeous skin, hardly any makeup. No wonder DAVID LETTERMAN's always falling all over her on the LATE SHOW. I wanted to say something brilliant but all I could come up with was: "I just wanted to say well done!" She smiles & says "Thanks for saying that!" "No, I mean it, good job!" I say. "Thanks have a nice day" the angel Paris says. And I leave LAMPS PLUS sad but grateful to have basked in her presence if only for a moment. I'm only slightly kidding. That girl has GOT something! (Besides a new $5,000 chandelier!)

One girl who hasn't got it anymore is definitely KATIE COURIC. She's on the cover of this weeks NEW YORK MAGAZINE with the interview therein titled: "Alas, poor Couric" And Katie is playing defense. She sounds a bit brittle if not downright bitter when she says:

"I think the one thing that I realized, looking back at it and analyzing it, is people are very unforgiving and very resistant to change," says Couric. "The biggest mistake we made is we tried new things."

Mmmm well Katie I think the biggest mistake was in not listening to TheGayGardener when I sent you all those emails in the first few weeks begging you to fire your hairdresser, makeup artist & stylist, all of which you later did but too late for me & many thousands of viewers. Shallow you say? Sure! But I mean pink, shiny lip-gloss?
Over-done blond highlights on a helmut of sprayed hair? None of your blazers fit properly but still they were buttoned & you once even wore a bright white jacket which I thought was the first rule in TV, no white!? It was so damn distracting! And those first months there was so much crammed into 20 minutes of news time, I couldn't recall a single story I'd seen. PLUS you come on a 6:00 pm in the West & no ones home here to watch you. Give the money back to CBS go back to TODAY & Let MEREDITH return to THE VIEW & we can all pretend it was a bad dream, like "Bobby's" death on DALLAS.

I read that JANE Magazine ceased publication today! I never even heard of it, JANE?' Did anyone read it? Oh, I guess not if they stopped publishing it. I think that VANITY FAIR is well on its way out too! Maybe they should stop focusing on that damn annual OSCAR Party or GRAYDON CARTER's Restaurant & go back to publishing a magazine. What are they doing like 7 "Green" issues a year now? And BONO in Africa? With 20 different covers or whatever? Boring! Sorry. And that freaking Coaster Correspondence with Ed Coaster is not now nor has it ever been funny! Ever! KILL IT! Give me DOMINIC DUNNE & the high society dish. Tell me stories of Old Hollywood. Even CHRISTOPHER HITCHENS and whoever he's hating on now that's he's boxed with God; is interesting at least. I am not sifting through 2000 pages of advertising for any of the stories & profiles that are in this magazine of late.

Labels: Couric, Lamps Plus, Paris, Vanity Fair