And Not A Drop To Drink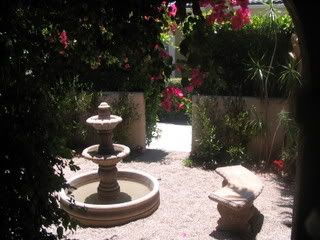 I know, I know…late again. What can I tell you? I've been in the garden! It's like that scene on one of my all time favorite flicks: TRUE CONFESSIONS. Charles Durning (in an amazing performance) is trying to outwit a priest (ROBERT DUVALL) He's in the confessional box & is anything but repentant; scowling & seething; he spits out: "Bless me Father for I have sinned, its been 20 years since my last confession…I"VE BEEN BUSY!"
If you've never seen the film rent it! Screenplay by the late JOHN GREGORY DUNNE & his brilliant wife, JOAN DIDION, who wrote the most heartbreaking book from last year, that is a smash on Broadway now, called, TheYear of Magical Thinking. Oh & DeNiro's in the film too! Not too shabby

Speaking of the theatre (we were weren't we?) Saw 2 shows last week! Theatre in Los Angeles you say? Well yea! Tours actually but still. I saw WICKED at the Pantages on Tuesday. LOVED IT!!! What a clever idea to do the "backstory" on OZ. Or as the trailer says"what happened before Dorothy dropped in" Excellent performances & a very professional production. Totally worth it! GO!
Also saw JERSEY BOYS (uhh look I'm GAY! MUSICALS ARE ALL I REALLY DO!) This is a really terrific show!! I can't tell you what a good time it is! The story of FRANKIE VALLI & THE FOUR SEASONS is sweet, compelling, & triumphant, backed by some of the most "hummable" recognizable songs of the century. (DAWN, WALK LIKE A MAN, SHERRY BABY, My EYES ADORED YOU etc) and they don't even mention Frankie's biggest hit: the theme from GREASE (Grease is the word, is the word, is the word… ) Anyway…my one complaint with this production is that the lead who played Frankie really STUNK vocally. I don't know if he was sick or just having a "off night", but he cracked at least once & pulled the old schtick were you just lip synch as if you're singing because you can't hit the note. Like LIZA did all through the 90's! I was bummed because all my NYC friends had raved about the performance of JOHN LLOYD YOUNG who played Frankie on Broadway to great acclaim & who ended up with
The TONY Award & whom I'm sure is "filming" something now & could not be bothered to tour.

Did you hear? That SALMON (The SATANIC VERSES) RUSHDIE & his beautiful & much younger wife, PADMA LAKSHMI are divorcing? I'm sure this has nothing to do with last week's PAGE SIX sighting of little PAD with an unidentified, yet famous chef, whom I'm also sure was NOT Rocco DiSpirito! This just days after Her Majesty, Queen Elizabeth II knighted good ol' Sal. It's always so shocking when these May/December romances don't work out

And a Royal segue to that lovely concert hosted by Diana's boys, WILLS & HARRY Aren't they so cute? You can see so much of her in them. But poor Wills (um I mean the future KING WILLIAM II of Great Britain) he's already thinning so badly! He'll be lucky to have a single hair on that head when they eventually crown it! Just like his Uncle, PRINCE EDWARD, whom it was announced today from Buckingham Palace, is expecting his 2nd child with his wife, HRH Sophie, Countess of Wessex. This chick is 42. Hope she had an amnio before BUCK HOUSE made this announcement.

I went to Mass last night (don't ask) in BEVERLY HILLS & heard a petition for prayers for BEVERLY SILLS. (Yes I know she's Jewish but she has a lot of Catholic friends) So I knew she was sick. But was sad to hear of her passing today. Ms. Sills (BUBBLES) to her friends, was one of those gifted Opera divas who make this kind of music & performance acceptable & accessible to the masses & the great unwashed (read: me!) One legendary tragedy of Sills' life was that she had 2 children who were born deaf. Imagine being a world-class Opera singer whose children cannot ever hear a word you say, let alone sing??

Busy doing WHAT you ask (besides the theatre)?? Hey! I don't like your tone! But if you must know I've been transforming a lovely Courtyard garden in West L.A. The above photos will hopefully justify my absence. And also working on a wonderful beach house in Venice, CA, which I'll happily show you the end result of next week.

Oh & God yes! HAPPY 21st BIRTHDAY TO little LINDSAY LOHAN Nope that's not a typo LL just turned 21 today. Her Liquor Company Sponsored Birthday Bash was tastefully cancelled (Not by her MOTHER…I said tastefully) due to the fact that Linds is still in REHAB!

Talk to you soon!