Happy & Grateful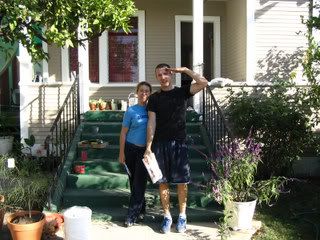 …just like The Secret says. But you know what? I am happy & grateful. I have never had a busier summer nor a more successful one as TheGayGardener. I have met so many wonderful people…clients who I now call friends. That adorable couple above are just an example. The famed producer MARIA MAGENTI (Puccini For Beginners) & her sweet partner, Mark. They invited me to help them with their fantastic home in Silver Lake. Though they have such great taste & instincts, I was very little help at all. But I am so happy to have met them. And to my new friends, Lisa, Shirley, & Madeline in Venice, CA...thanks for making my summer! You sheer delight at what we were able to accomplish with your gardens was reward enough!

Here's a little GayGardener secret: Guess where I picked up these fabulous Vietnamese glazed pots in Cobalt & Terra Cotta? JoAnn Fabrics And such a deal! Who knew that they even had pots & gardening supplies?
But they do (seasonally) & at great prices!! Check it out!