PhotoShopping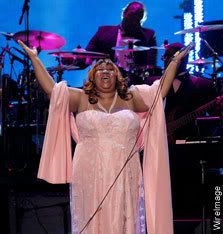 By now you've seen those "Fishnet Fotos" of boxing champ, OSCAR DELA HOYA! If not, Google them. I'm not providing a link here because, hey Oscar's a professional boxer…he could probably take me! But they are amazing. The champ's people are claiming they are fakes, someone photoshopped Oscar's head onto someone else body. But the young woman who sold them swears they're the real deal. She was in the room when they were taken. More will be revealed!

In a related matter…I saw this ad for The Los Angeles Daily News today. Is it a joke? Is that KATIE HOLMES CRUISE? Clipping coupons in a newspaper ad? I mean I know her marriage to TC was not the best career move, but still! Maybe it's just someone who looks like her. If not, that "post-Cruise-marriage-Oscar-ala-Nicole" is seeming less likely.

ARETHA FRANKLIN is a national treasure. I'd like to have her around & singing for a long, long, time. But from this photo from a New York tribute to DR. M.L.King, Jr., it looks like Ree has been singing "Chain, chain, chain, chain of FOOD" Not Fools! Ms. Franklin CALL JENNY! You could be the next celebrity Spokesperson after VALERIE BERTINELLI!

A big thank you to Sue M in Studio City! I had a blast doing your terrace this week. Glad you like it. You're a doll.