Ciao! Ragazzi!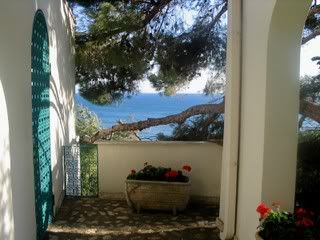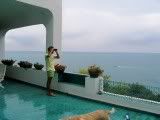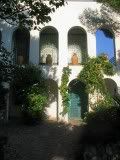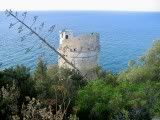 Like many of you I went to the beach for Labor Day, the last big weekend of the summer. But for this long weekend I was lucky enough to go to the beach in Italy! I had an amazing time but the jetlag is killing me. I am too old to do Europe in less than 6 days.

I joined some friends in a beautiful place one hour south of Rome called, Cierceo. Located in The Mediterranean (or Tyrrhenian Sea) this splendid isle offers views of the archipelago known as The Pontine Islands, as well as Capri. Diving off the rocks of The Villa Arnone into the warm Med will go along way to curing what ails you.
And the terraced gardens of the villa were enough to drive TheGayGardener into despair because there's no way I could ever replicate their beauty! See above pics for a hint.

On the way back from London to L.A. I see a tall, elegant woman with "Jackie O" sunglasses kneeling before a handsome gentleman in Business Class & chatting quietly. When the lady got up & returned to First Class, I realized it was the very talented actress, ALFRE WOODARD. I suppose the "class difference" was because some studio was too cheap pay for 2 First Class tickets & so the gentleman had to go Business. I imdb'd Alfre & saw that the man she was chatting with was her (shocking!) husband, Producer, Roderick Spencer. From what I saw these two really dig each other! Nice!

Also in First Class on my flight was JACK COLEMAN. You may remember him as the 2nd "Steven Carrington" on DYNASTY. Steven was one of the first gay characters in a series in Prime Time. But of course those were the dark days of gayness, so the writers eventually had him marry little "Sammy Jo" played by a new actress named, HEATHER LOCKLEAR! Coleman must be in his mid 40s, is about 7 feet tall & looks great.

Speaking of Italy, the country is in major mourning tonight with the announcement of the death of the legendary LUCIANO PAVAROTTI.
The larger than life tenor did more than any singer since MARIO LANZA to bring Opera to the masses. Just to listen to the great one sing the first few bars of "Nessun Dorma" from Turandot will give you goose bumps. God Rest his soul!
Labels: Alfre Woodard Italy Pavarotti