M.E. for EMMY! Stat!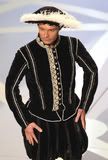 Yep! Call the Medical Examiner because last night's Emmy telecast was D.O.A. It just kept getting more horrific as time went on (and on!)
First of all I haven't seen a worse "theatre-in-the-round" production since I went to see a road tour of A CHORUS LINE at The Valley Forge Music Theatre in 1983. This is definitely an idea whose time has come & gone. I think the absolute nadir occurred when RYAN SEACREST bounded on the stage wearing JONATHAN RHYS MEYERS" costume from THE TUDORS, what was he thinking, well clearly he wasn't. Were we just supposed to laugh at the "gayness" of it all? Tony Bennet is still a class act & CHRISTINA AGUILARA is very talented, but featuring them as a duet is like pairing LUCIANO PAVAROTTI with The BEEGEES! SALLY FIELD might have made a better argument for peace if she'd bothered to remember her speech or at least improvised more elegantly. Sheesh!
And in what parallel universe does JAMES SPADER beat JAMES GANDOLFINI in an acting contest? Who knew THE PRACTICE was even still on the air? It took an old broad like ELAINE STRITCH to finally pump a little life into the room but it was far too late!
For a far more critical assessment see Ken Levine's review over on The Huffington Post

Ken Levine on HuffPo

The ACLU has filed an AMICUS CURIAE or "friend of the court" brief in defense of toe-tapping Senator James Craig. In this case I think the legal filing should correctly be called an AMICUS QUEERY brief, don't you. Which reminds me that the funniest moment in the EMMY Telecast was actually the toe tapping BILL MAHER entry for his writers' nomination! Hysterical! And did you know that The Men's room in The Minneapolis Airport is now an (semi) official tourist destination? Visitors are flocking there to have their pictures taken in the stalls! I love it!

Some sad news, BRETT SOMERS died over the weekend. She was the Queen of The MATCH GAME and a perfect foil for fellow panelist CHARLES NELSON REILLY. Who'd have thought that her ex-hubby JACK KLUGMAN would outlive her? Please click on the YouTube click below if you want a laugh. It seems to me that Heaven is getting to be a funnier place every day!

Match Game


The ANNA NICOLE SAGA is really the gift that keeps on giving but was anyone else simply delighted to see O.J. in handcuffs again? Does it not make you believe in Karma? The fact that he could actually do serious time for this stuff is poetic justice personified!
Maybe he'll rev up The Bronco & head for the border again!! Oh boy!

Saturday was my 4th Annual Cocktail Party to celebrate the Feast of San Genarro. We had a blast! You may well ask why does an Irish, gay, gardener, celebrate an obscure Italian Saint? (Januarius to the rest of us) Mainly, I love a theme! And because the Italian Flag is red white & green I get to re-use many of my Christmas decorations as well as some cherubs from Valentine's Day for religious significance!
It was all votives & Christmas lights, so the above pic doesn't do it justice. Thanks to all who came.or rather "grazie"