"Hello Young Lovers"
-Song from THE KING & I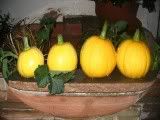 So if you were wondering what happened to those pumpkins that suddenly sprouted up in my front garden in July (!!?) They went into the making of the above Halloween Kitty. Easy to do:

3 smallish pumpkins (small, med., large)
Black gloss enamel
Toothpicks
Raffia
Buttons or jelly beans
Orange feather boa (optional..mandatory if gay!)

Remove stems & paint pumpkins

Attach one to the other with toothpicks
Trim raffia for whiskers
Pin buttons or glue jelly beans for eyes, nose mouth

Meow!

Deborah Kerr died today. Many of you probably don't even remember her or know that her name was pronounced CARR. But if you're a movie fan you will. She was a wonderful actress. Every inch the lady. Prim, proper & very pretty. With a smoldering, sensual, fire inside; used to great effect in the classic, FROM HERE TO ETERNITY. She starred in so many classics, HEAVEN KNOWS MR.ALLISON, THE CHALK GARDEN, THE KING & I, AN AFFAIR TO REMEMBER ("I was looking up!") Her most unusual film was the 1947 film, BLACK NARCISSUS. In it she played an English nun in a convent in the Himalayas who ends up in a love triangle with a swarthy laborer & another nun. Total psychodrama & unforgettable! As was Miss Kerr.

And you know what? BRITNEY SPEARS deserves to lose her kids!! This shit is getting ridiculous!

Did you guys see the MATT LAUER interview with SEN. LARRY CRAIG? Jesus! I've had less painful root canals. Was this really necessary? And in PRIME TIME??? Does Matt think that this is going to win him a PEABODY AWARD like Katie did? All those references to the gay LIFESTYLE were so offensive. As if gays have a lifestyle, not a life. And that that life naturally includes sex in public bathrooms.
The most ridiculous part was this: Matt Lauer is in his late 40s & has lived half his life in New York City. He's a handsome & stylish man.
Yet, unbelievably, he said, "cruising…whatever that means" Matty! Really, you don't know what cruising means? Never had a guy check you out at the gym where you spend soooo much time! Give me a break!
Labels: Britney Spears, Deborah Kerr, Larry Craig, Matt Lauer, pumpkins