"Eyes On Your Own Paper"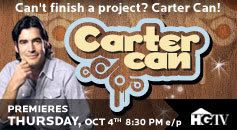 That's what the nuns used to say when warned you about cheating on a test. Speaking of which… you'll remember back in March when I asked you to rate my YouTube video submission for the new Carter Oosterhouse show on HGTV. Well, I didn't have the hang of the whole YouTube video posting thing, so my lips were out of synch with the audio, no matter. The role they were casting was a handyman with a "big personality" So TheGayGardener re-wrote the lyrics to the classic Sammy Davis, Jr. song; "The Candyman". I thought it was cute: "the handyman can take, anything you break & out the pieces back together, never mind about the weather, I can even do it wearing leather" The constant refrain of "the handyman can, oh the handyman can, the handyman can cause he fixes it with love & makes the world look good" amused me. Well I guess it amused the folks at HGTV too because the previously untitled Carter Oosterhouse show is called: ta!da! "Carter Can"
Is there a lawyer in the house?

I don't care what the critics say, I LOVE "Dirty, Sexy, Money"
You know how I feel about PETER KRAUSE but what I am really, really enjoying is watching 2 older, great actors, umm, acting!
DONALD SUTHERLAND & JILL CLAYBURGH are marvelous.
I think you could turn the volume down & still understand Sutherland just by what is happening in his bright blue eyes. And Miss Clayburgh always gives the impression to me that she's improvising which is the highest compliment I can give. The "kids"? ehh, not so much. But I'll keep watching.

I'm sure, like me, you have your glue gun all warmed up & are working on your Fall crafts! One cheap easy thing to do, especially if you have kids, are the above "candy corn" pots. Simply take some various sized terra cotta pots & paint orange, white & yellow stripes on them. Fill with succulents for a "scary" look. Mums also look nice.
Get crafting!
Labels: Carter Oosterhouse, DirtySexyMoney, HGTV