Showpeople!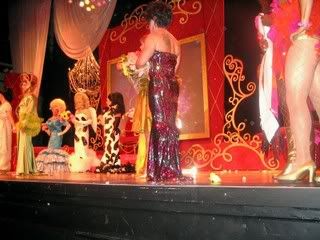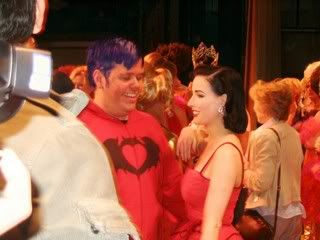 O.K. so AVEDON, I'm not…but these are some photos I took backstage at Sunday's BEST IN DRAG SHOW. The lovely JENNIFER COOLIDGE working the red carpet & PEREZ HILTON blinded by the beauty of DITA VON TEESE the former MRS. MARILYN MANSON!!)

I forgot to mention on the way into the after party, I met this adorable girl who introduced herself as "Rose" & her companion as "Robert" I asked where she was coming from & she said she just went to see ELIZABETH: THE GOLDEN AGE. We both agreed what a disappointment it was. It was only much later that I realized that the stunning blonde girl was actress, ROSE MCGOWAN & her director fiancé, ROBERT RODRIGUEZ. They were both so nice & normal & she is really gorgeous. Word has it that UNIVERSAL is balking at Robert's choice of Rose to play the lead in their remake of the JANE FONDA classic, BARBARELLA. I'd say Robert really knows what he's doing & I bet she'd be fabulous!

P.S. Happy 14th Birthday Sammy! I miss you.
Labels: Dita Von Teese, Jennifer Coolidge, Perez Hilton, Rose McGowan