Rantin' & Ravin'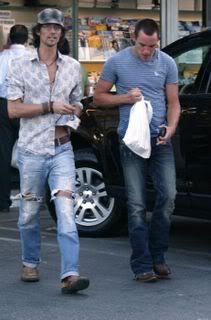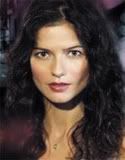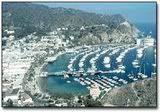 Does the above photo (courtesy of A SOCIALLITE'S LIFE and flynet)
mean that JONATHAN RHYS MEYERS is cheating on me with this tan, thin, hottie? Maybe they're "rehab" friends? Sponsor & Sponsee? It could be his fencing coach from THE TUDORS!?! Well to hell with you JRM! I'm going to just take up with your TUDOR'S Co-Star, HENRY CAVILL..so there!

Monday night on CBS has a Very Special Episode of THE KING OF QUEENS…WHAT??? This show was on the night of my SENIOR PROM!!! Apparently this is the FINAL EPISODE?!!! Now can anyone please tell my why CROSSING JORDAN is still on?? I am the biggest fan of JILL HENNESSY; don't get me wrong, I think she is one of the most beautiful actresses working today! SHE made me watch LAW & ORDER. And all the girls (Assistant D.A.s) after her, are just versions of her. I actually met her once & gushed so badly I know she thought I was a stalker; or at least her adorable Italian husband did. AND I think she was the best JACKIE KENNEDY Ever!! And I am the toughest "Jackie Judge" Don't believe me? Rent "JACKIE, ETHEL & JOAN: THE WOMAN OF CAMELOT, you'll see! But this NBC show was always beneath her talents (not to mention those of MIGUEL FERRER) and it's been on since, what? The first Clinton Administration? C'mon Jill stop slumming! Kid or not… get a real gig! But this IS the perfect "Under The Radar" show all actors really want. Not a "white-hot, must -see show" that is certain to cool down fast (READ: GREY"S ANATOMY) But a "oh, there's nothing on cable" kind of show that may not attract huge numbers but doesn't alienate any viewers either! Like maybe…JERICHO?? Is THAT Still on?? To repeat my acting teacher, CHARLES NELSON REILLY's mantra: "Television is like a butterfly shitting….you know it happens, but nobody SEES it!"

And now the Island of CATALINA is burning! Do you think God is mad at Los Angeles? Maybe he just saw SPIDERMAN 3!??

Have you seen all the gorgeous ROSES available for planting that are out there now? Huge Blooms, Stunning colors, Impervious to disease & very hardy!! And you know what? You can HAVE THEM! They are clones of clones of clones. Oh yes! They'll bloom loud & long, they'll forgive your inattention & make a very meretricious display out your front window, but they will NEVER capture your SOUL! Chiefly because they DO NOT SMELL! In an effort to make them stronger, manufacturers have sacrificed fragrance! So "a rose by any other name, would NOT smell as sweet!" Order from small nurseries & stick to heirloom varieties! You (& your soul) won't regret it!