Mission Accomplished!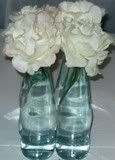 Maybe it's part of THE SECRET
that just by stating something aloud you make it so, especially in Washington, D.C.

If you're like me you're so desperate for warmer weather & Spring/Summer, that your grabbing up bunches of flowers at the Farmer's Market, the grocer, 7/11 or wherever you can find them & bringing them home. One thing I like to do is put them in unlikely containers. Anything can be a vase. I like to use unusual beverage bottles. Like these clear curved ones from Italian sodas, that I gathered a quartet of & filled with white roses. I prefer if they have no brand engraved on them (like "Coke") Remember in the 70s when it was "classy" to use "Perrier" bottle to hold blossoms on little café tables???...like that!

Musings: *Do you ever notice that when people say "It's not the money…" It's ALWAYS the money.
*Just once I'd like to hear someone from their death-bed say: "I wish I'd spent more time at the office!"
or
For some well-off person to say: "Oh no! We're not "comfortable"! "We're RICH!"

I've stopped taking diet pills because they only make me EAT FASTER!!

Memo to MATT LAUER: Wherever in The World You Are:
Next time you go to Ireland refrain from wearing ORANGE. It not only looks ghastly, but has a negative connotation in The Emerald Isle. Ask any Irishman how he feels about an "Orangeman" Then for your associate, HODA KOBE, to show up in yet another orange shade was simply too much!


My deepest sympathies to SUZANNE PLESHETTE on the death of her beloved husband, TOM POSTON. Poston was the last of a breed of nice guy working comic character actors. You cannot find a soul in this town who has a bad word to say about Tom or Suzanne & their common link was the original Hollywood nice guy, BOB NEWHART who made them both famous. That they found love together so relatively late in life is an inspiration! Rest in Peace Tom

It's now been over 3 months since I lost the love of my life, Sam. You know you kid yourself by thinking it will get easier…it doesn't. It just comes in fewer but more overwhelming waves. I had to laugh though to see this picture on one of my favorite sites, DEFAMER in a story about Spiderman 3 (funny…I haven't heard anything about this film, you?) This "Spidey" looks exactly like my Sammy and made me shamefully think of all the silly costumes etc I made him wear. But despite my best efforts, he always retained his dignity!