Over The Rainbow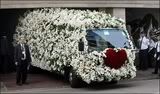 What the hell is up with this weather? Forget global warming…I'd settle for some heat right about now! I blame Congress for screwing up everything when they tampered with Day Light's Savings Time & turned back the clock weeks earlier than usual. Easter Weekend was cold & dreary here. Last weekend The East coast was inundated with torrential rains while here on the West Coast we were buffeted by winds so strong I expected to see a flying house land on some wicked witch (& I have a short list of nominees I'd like to see that happen to!) Speaking of which: Why do they call them "Gale-Force winds"? After "Dorothy Gale" in "The Wizard of Oz" And they are predicting a weekend full of rain here in Los Angeles. How can TheGayGardener possibly garden or even be fully gay if he can't even leave the house? Oh all right, there is THAT! But really I am over it!

What never married comedian with more than one hit T.V. show on his resume is gay, gay, gay? He has a new DVD out right now? Any guesses??

In a related matter…And I KNEW this was coming…the tan & hi-lights are just too perfect, but THE ENQUIRER is carrying a story from a former male lover of AnnaNicoleBabbyDaddy: LARRY BIRKHEAD. The guy is a model & very handsome so at least Larry isn't slumming.
His name (stage?) is KERRICK ROSS & this is the story he's sticking to:
We were together for about two months and had sex eight to 10 times, always at my apartment. He often spent the whole night with me. I had been 'out' for a long time, but Larry was not out of the closet — and he was terrified about his family, who were devout Southern Baptists, finding out he was having a gay relationship

This only feeds into my nightmare: that Larry & HOWARD K. STERN end up as partners, raising little Dannielynn together!

Speaking of Parents From Hell: TMZ has the actual voicemail recording of DADDY DEAREST, ALEC BALDWIN ripping his little daughter, Ireland, a new one, because apparently she didn't pick up the phone for their previously arranged weekly call. This poor little product of the Baldwin/Kim Bassinger (mis) alliance had to listen to Daddy ranting:

You are a rude, thoughtless little pig."
"You don't have the brains or the decency as a human being," he says, apparently upset that she did not answer her phone for a planned call.
I don't give a damn that you're 12 years old, or 11 years old, or that you're a child, or that your mother is a thoughtless pain in the ass who doesn't care about what you do as far as I'm concerned. You have humiliated me for the last time with this phone."
O.K. which Baldwin is Alec? The blonde one who made a film about 3-ways before he found Jesus? The big, dark one who is always getting arrested in sleazy Santa Monica hotels with drugs & trannies? The skinny one who married the skinny one from "Wilson Phillips"?? I get so confused!

Sanjaya??? Thank God! This is a little boy, with a little talent, who went a very long way! He will definitely be a question in the TRIVIAL PURSUIT: IDOL EDITION & hence is assured some immortality!

You would think that a world famous billionaire, with a fading T.V. show would have better things to do; but DONALD TRUMP took the time to purchase ROSIE O'DONNELL's S&M Leather Costume from the film, EXIT TO EDEN, at auction & send it to BARBARA WALTERS as some kind of twisted joke. I guess the Donald realizes that the only time in the past 5 years he has been remotely relevant was when he was publicly feuding with Rosie & driving up ratings for THE VIEW.

Have you heard the story of Nina Wang? She was Asia's richest woman who died last week. Popularly known as "Little Sweetie" (don't you love it?) Wang had a fondness for pigtails & left an estate valued at $4.2 BILLION (U.S.) and she left the whole damn thing to her personal fortune teller! If you were a florist in China last week you did very well! There were tens of thousands of floral tributes to Wang & she was carried out in a flower-encrusted van/hearse! The whole DATELINE aspect to the story is that she had to battle her Father-in-law for control of the estate in a lengthy court room drama because her husband mysteriously disappeared at sea & his body was never found. Her will did stipulate that funds be put aside for her ailing but still living late husband's father so no hard feelings there! 4 Billion Will bring out the merciful qualities in all of us I dare say! My question is did the Fortune teller foresee her own prosperity???