IN CONTEMPT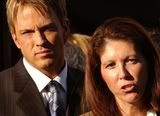 Did you know that April is National Gardening Month (well. It IS Spring!) One cool way to celebrate is to have a Plant Swap! Get together with some of your gardening friends and trade seeds, cuttings or new plants that you love & have had success with. Many perennials need to be "thinned" & divided, so it doesn't even have to cost you anything. The best part is if you've already grown a specific plant in your area or zone, then your friends should be equally successful. You'll be able to advise them on the best place to plant them & sun & water needs. Thus taking the guess work out of the enterprise. Of course if you're like TheGayGardener, you'll just use this as an excuse for yet another cocktail party on the terrace!

Speaking of Cocktails…my best friend Ray & I auditioned to be global "Life Ambassadors" for CHIVAS REGAL SCOTCH on Saturday & had a blast! This very well run event was held at the CHIVAS STUDIO on Wilshire Blvd. in Beverly Hills. The winners get to travel the globe as ambassadors for "The Chivas Life" My Bags are packed!! Wish us luck!

TMZ is reporting that "Anna Nicole Baby Daddy" LARRY BIRKHEAD has fired his lawyer, Debra Opri. But poor Larry was shaken to receive a FedEx package of bills for services rendered amounting to well over half a million dollars! ($620,492.84 to be exact!) Including billable hours for attending Anna's funeral! As well as a $25 laundering charge for Ms. Opri's husband's shirt that he wore to the funeral! Does anyone recall what SHAKESPEARE said about lawyers??

Best wishes to WHITE HOUSE Press Secretary, TONY SNOW who is again battling cancer. God Bless him! His able & attractive deputy Dana Perino, is filling the void in the meantime! One amusing story regarding Ms. Perino's new role has Education Secretary, MARGARET SPELLINGS telling the Deputy Press Secretary to "Put her Big Girl Panties on!" Nope! This is too easy!! Sorry!