The Party's Over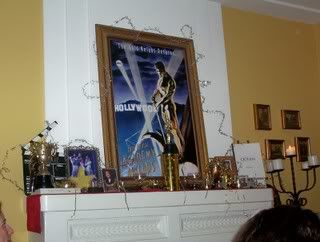 But by God, that show was endless wasn't it? I thought ELLEN DEGENERES did a fine job, not fantastic, but fine. I guess the atmosphere is so insanely pressured, that even the most talented comedians "choke" a bit. Remember DAVID "Ooooohma/OOOPrah" LETTERMAN? HELEN MIRREN was perfection itself. "Dreamgirl" JENNIFER HUDSON Knew her "intergalactic' dress was a nightmare & rightly changed into a lovely beaded number before she went back to the press room. I LOVE that EDDIE MURPHY allegedly stormed out of the auditorium after winner ALAN ARKIN's name was announced. The OSCARS' are sooo NOT about good sportsmanship.

Speaking of OSCAR do you like my fireplace mantle? We gays do "love a theme" to decorate by! I had an old Academy Awards poster (available at www.oscar.com) that I put in a gold-leaf frame. Any "star" Christmas decorations you have lying around also work & while you're in the attic or basement, grab some tinsel for your salute to "Tinsel Town" Replace some of your framed photos with pictures of nominated stars. Another cute idea is to take you old photo negatives and make a table runner by curling the film down the center of the table & placing votive candles randomly so that the candle light illuminates the negative. Or simply wrap old negatives around the votives for your celebration of FILM! Too much? Grab some cheap fabric (or again a Christmas tablecloth) in red and make a "red carpet" runner to show off your OSCAR Buffet!

I am so inundated with all the ANNA NICOLE news, that when I heard on TV that various women are seeking DNA from the body of the late (& great) JAMES BROWN; in order to prove paternity, for a minute I mistakenly thought Mr. Brown was now a contender in the "Who's The Baby's Daddy" race.

There's a real scare here in Hollywood involving WOLFGANG PUCK CATERING. Apparently one of the Puck Caterer's (Puckettes?) has been diagnosed with Hepatitis "A". No one attending the Academy Award's Governor's Ball which Puck also catered is affected (THAT is too mind-boggling to contemplate) but some big name partygoer's celebrating The Sport's Illustrated Swim Suit issue on February 14th MAY have been exposed; including "Covergirl" BEYONCE!
"Carl Shuster, president of Wolfgang Puck Catering, said the company was working closely with health officials to contact anyone who ate food prepared in its Hollywood kitchen between February 1 and 20."

Yuck!