Bad Blogger!! Bad Blogger!!!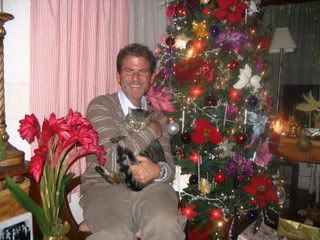 Aannnddd we're back!

Please forgive my long absence. I really haven't stopped since Thanksgiving. In addition to one yard, two balconies & a terrace, TheGayGardener (N.B. I resolve in 2007 to stop referring to myself in the Third Person) decorated 2 houses, 3 Christmas trees (not to mention the 3 in my own house) and a number of tabletops… if I see one more piece of holly, I'm going to heave. Donald vs, Rosie, Britney vs.Her Liver; I've missed so many amusing stories but we'll just move on & try to keep current. Two of the scariest stories I wanted to comment on though, come from, of all places Spain. To wit:

BARCELONA, Spain Dec 20, 2006 (AP)— The Virgin Mary. The three kings. A few wayward sheep. These are the figures one expects to find in a traditional Christmas nativity scene. Not a smartly dressed peasant squatting behind a rock with his rear-end exposed.
Yet statuettes of "El Caganer," or the great defecator in the Catalan language, can be found in nativity scenes, and increasingly on the mantelpieces of collectors, throughout Spain's northeastern Catalonia region, where for centuries symbols of defecation have played an important role in Christmas festivities.
During the holiday season, pastry shops around Catalonia sell sweets shaped like feces, and on Christmas Eve Catalan children beat a hollow log, called the tio, packed with holiday gifts, singing a song that urges it to defecate presents out the other end.
These traditions, in the case of the caganer dating back as far as the 17th century, come from an agricultural society where defecation was associated with fertility and health.
While the traditional caganer is a red-capped peasant, more modern renditions have gained popularity in recent years.
Copyright 2006 The Associated Press. All rights reserved.

AND:

MADRID, Spain: A 67-year-old Spanish woman became the world's oldest mother after she gave birth to twins in the northern city of Barcelona on Saturday, a hospital official said.
The woman, whose identity has not been revealed by Sant Pau hospital, gave birth by caesarian section on Saturday having previously undergone in vitro fertilization in the United States, according to the national news agency EFE.
Originally from the southern region of Andalucia, the new mother chose the Barcelona hospital because it specializes in high-risk births.
The mother and twins are all doing well though the babies are both in incubators, a hospital spokeswoman said. The hospital did not reveal the gender of the twins.
The previous holder of the oldest mother record was 66-year-old Romanian citizen Adriana Iliescu who gave birth to baby Eliza Maria in Jan. 2005

WHAAATTTT??????? If you wrote this as fiction, you would never be published!

In addition to all the Holiday Craziness, a GAYGARDENER GASH!
So I'm helping Santa fill his sleigh with some of my floral creations & the all-steel trunk (Santa drives a BUICK!) comes crashing down on me, leaving a 2 inch tear in my forehead. Thank God I have DR. JESSICA WU on my speed-dial (right after DR. KEVORKIAN!) drjessicawu.com
She's the world famous dermatologist who does EVERY Soap Star & a couple of former First Ladies (!!!) Dr. Wu talked me "off the ledge" & gave me an amazing "fade-cream" from Europe that I think is actually working Above is a photo of me with the cream-covered cut, holding "MAX" my cat & putting on a brave face!

A small(ish) cocktail party for New Year's Eve resulted in the above tabletop! A winter wonderland! New Years' Eve is easy…just pull all your shiny, silver, mirrored ornaments & holiday décor & set the table. Get height from candle pillars! Also look around the house & use any shiny silver accessory, champagne buckets, chargers, sugar bowls, loving cups, jewelry, whatever you have. Place some small votives around to reflect the silver & you have an instant glittery affair.
PLEASE! If one more person Wished me a "Happy New YearS"…It's one year at a time, thank you very much! New Year's (possessive, not plural) Eve! But a New Year (singular!)

Anyway, A Happy, Healthy to you all!