This One's For The Girls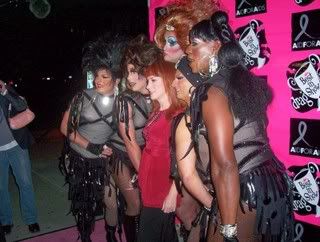 I went to an amazing show at The Wilshire Ebell Theatre last night.
The BEST IN DRAG SHOW; which is an annual fundraiser for "Aid For Aids" an extraordinary charity that acts as a direct life line to those with HIV/AIDS. The set-up is an actual beauty contest amongst 7 Finalists: "Hannah Schevitz","Sue Baru", "Anna Bollick" "Roxy Cotton", "Lacie Brownie", "Cookie D'eau" & "Rita Bible" competed in Swimsuit, Talent, & Evening Gown Competitions. With hysterical color commentary by "Lotta Slots" & "Ida Dunham" eg:
" Sweetie, Miss Pennsylvania is so old her birthstone is LAVA!"
"…she's so old she was a contestant on the first Game Show & the prize was FIRE!" …like that. The incredible thing is that the "girls" do everything for free! The only expense AFA pays for is to rent the theatre for "one night only" The gowns, wigs, props, jewels, makeup are all paid for by the contestants & a staff of volunteers do everything else to create the first class production. The Celebrity Judges included: Charlie Sheen, John C. Reilly (who had just hosted Saturday Night Live in New York 12 hours prior & flew back just for this show!) Jason Alexander, "The O.C's" Peter Gallagher, Jennifer Coolidge ( a big crowd favorite) Rebecca Gayheart (accompanied by her husband, "Dr. McSteamy" who's even hotter in person!!) and the incomparable, Kathy Griffin, who opened the show & had everyone practically peeing their pants! I haven't laughed this much in a theatre since I saw Maggie Smith on Broadway in Lettice & Lovage about a thousand years ago. Oh, and in one evening AFA raised a much needed $250,000!!

It's not too late for those in the West to plant some panseys!! If you get them in now they should bloom all winter long. Look for some of the new, interesting, multi-hued varieties. You won't be sorry.

If you live in California, cut some of those "Birds of Paradise" that grow like weeds here & make a colorful scary floral display in less than 2 minutes.