How to Hide a "Lifeguard"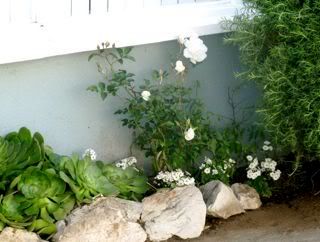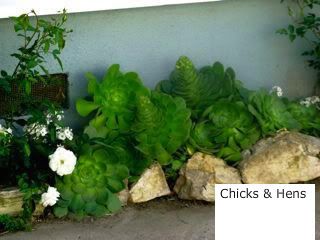 PROBLEM:

Over-exposed, pool side flower beds. Busy owner (renter) with small budget. Wants low maintenance with a splash of color.
Would like to "disguise" LIFEGUARD sign. Subject to rules & regulations of building owner/manager.

SOLUTION:

1. To keep costs down, use as much existing material as possible. Save & replant any usable existing plants/shrubs. Re-use & realign landscape rocks. Place jade & geraniums where they can branch out.
2. Use of drought tolerant succulents (jade,"chicks& hens")
3. One tall trellis painted to match building trim. One star jasmine vine placed at base of trellis. One pink jasmine placed at base of stair railing. These are fast growing & hearty and will be climbing up that wall to obscure the LIFEGUARD in no time. This is a Work in Progress!
4. One flat of perennials to fill in with color. Can be cheaply replaced per season. (primrose used here)
5: COST: $130
6 VALUE: Prettier view from window: PRICELESS!
Labels: chicks and hens, jade, succulents