Back In The Saddle!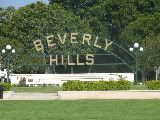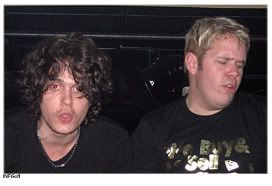 Sorry for the long silence but my damn back is still "out" (unlike most Hollywood celebs!) I'm in less pain but still damn uncomfortable. Christ is there anything more boring than a discussion of one's health!?

It's been three weeks now. I miss my clients, I miss Saturday mornings at the nurseries, I miss getting my hands dirty. It's Spring; a hell of a time for a gardener to be side-lined, but what can I do? I do think time is a great healer, so I'll just keep biding mine!

On the way to the acupuncture guy (!!) I drove through Beverly Hills. You may recall I spent 7 years working for that cosmetics company there. Beverly Hills is the most well known "small town" in the U.S. Even long time residents refer to it as "Mayberry". The town fathers have gone a long way in the past decade to "branding" the city. When I first moved here, the beautiful fountain at Wilshire & Santa Monica Blvd was in disrepair & not even working. It works now. And all thru the city there are many art installations & sculptures, some more successful than others. I like the one above. If I cannot be among real flowers than I'll take 6 feet painted iron fake ones instead.

Speaking of fake…oh, maybe not. But my favorite new scandal sweeping "the internets" is the story of celebrity blogger, PEREZ HILTON & his "affair" with singer JOHN MAYER!! It's in all the "rags" & tabloids. This is from US MAGAZINE:

Does John Mayer swing both ways?

Yes, says celeb blogger Perez Hilton, who hit the airwaves Thursday morning to detail an alleged recent make-out he had with the singer (one of Us' Cads of the Year).

"He is definitely bi," Hilton declared on Ryan Seacrest's KIIS-FM radio show, adding that Mayer is "struggling with his sexuality."

Of their liplock at NYC club Stereo last year, Hilton said, "He kissed me, and I kissed him back. It was on the mouth with tongue.

"I thought he was messing with me," Hilton went on. "Then he kept going and going."

Hilton claims Jessica Simpson — Mayer's girlfriend at the time — didn't mind.

"While John Mayer and I are making out, she is rubbing his crotch," Hilton recalled.

Mayer's rep tells Usmagazine.com, "This is all so ridiculous." Simpson's rep had no comment.

Hilton insisted, "It's 100% true."

INTOUCH had the story too(with the above photo) This is just so rich. I like Perez. He was even nice enough to run a photo of me with my friend Jen. I've seen him out & about a few times. Usually always noticeable with his pink or blue hair. And I believe this story. How freaky though that J.S. was just watching or rather attempting to participate in some way. Yike. Perez even managed to milk this for a bit longer by taking a lie detector test sponsored by US Magazine. Which he passed.

Helpful hint of the day: Hey, you want to lose weight? STOP EATING IN THE CAR! L.A. is a car culture & sometimes it just can't be helped but I've been noticing lately that a whole lot of people are eating while driving (Slightly less dangerous than the other L.A. pastime, TEXTING while driving!) But you know what? The folks who are eating behind the wheel are ALWAYS eating fast food or candy bars or giant mocha-latte-chai-with-a-boost-and-scone-on-the-side thingies. And 90% of the time I realize these folks are on the "heftier" side. Look at the skinny drivers: NO FOOD! They're just chugging back huge bottles of designer water with so much gusto its like they've just returned from the GOBI. There's definitely some connection here. I'm even going to try the no-eating-while-driving plan myself & see if I lose a few pounds.
Labels: JOHN MAYER, Perez Hilton