Holy Gay Garden Gnomes!!!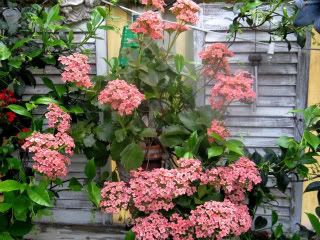 I love this little guy! Purchased at my favorite boutique...The 99 Cents Store.
The Gayest Garden Gnome:Kelly Green hat, pale pink belted jacket & Tiffany blue pants tucked into brown work boots!
He could do with a waxing though!


One of my all time favorite garden plants is the kalanchoe! Lush,dark, succulent green leaves & tiny flowers in a rainbow of colors.
They need very little attention & are quite tolerant of neglect (No that any of YOU would neglect them!) This is the beginning of their flowering season & it's quite the show! This little baby is the hi-light of my garden wall!

Thank God THE TUDORS has begun again. I just watched the premiere & the second episode back to back! After the bitter disappointment of THE OTHER BOLEYN GIRL , I was so happy to be back in (not) so Merry ole' England. JONATHAN RHYS MEYERS is still riveting, HENRY CAVILL still hot (hotter even!) MARIA DOYLE KENNEDY still heartbreaking & yippie! that crazy sexy King of France is back too. JRM actually even looks different this season. Older, less happy, more conflicted as befits a crazy-in-love-mad-with-lust King, about to sunder his Kingdom. Way to go Showtime!
Labels: Jonathan Rhys Meyers, Showtime, the Tudors