"That Poor, Pathetic Man!"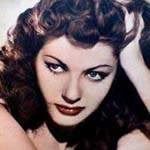 THAT POOR PATHETIC MAN!

But enough about President Bush…. Actually the above is a quote from Barbara Walters referring to Donald Trump as THE VIEW girls attempted to get back to normal after weeks of this nasty feud. The Donald of course, needed to have the last word (he is pathologically insecure) & fired off another letter saying he felt sorry for BW for being forced to continue to lie for the good of the show. He accused BW of reading her statement off a cue card. And if you watch it, you can see she IS looking down & reading her statement, she seems like a hostage reading a list of her captor's demands, or maybe it's just shame?!
ROSIE RESPONDS

http://www.bestweekever.tv/2007/01/10/icymi-barbara-walters-is-starting-to-skeeve-us-out

LILY MUNSTER IS DEAD! Actress YVONNE De CARLO died yesterday at age 84. To the millions of THE MUNSTERS fans she will always be the darkly glamorous wife of "Herman Munster" & mother to "Eddie". But she was so much more. She had a long career in films starring opposite the likes of CLARK GABLE & CHARLETON HESTON (She played Moses' wife in the classic CECIL B. DeMILLE's THE 10 COMMANDMENTS. And later in life had a huge Broadway success in the original production of STEVEN SONDHEIM's FOLLIES Musical theatre fans & queens (that's redundant) can tell you of her triumph in the role of "Carlotta Campion" one of the aging former FOLLIES showgirls. Yvonne got to sing one of the all-time-great "11 0'clock numbers" "I'm Still Here" That's a song that brings down the house right before the finale. And with her cynical, world-weary, rendition, she did! You may recall the same song being sung by SHIRLEY MACLAINE in "POSTCARDS FROM THE EDGE" PLAYBILL Magazine in its obituary of Ms Decarlo said that THE MUNSTERS "saved her from obscurity!" Isn't that just too much?


"First, you're another sloe-eyed vamp,
Then someone's mother,
Then you're camp.
Then you career from career to career, I'm almost through my memoirs, but I'm here!" – "I'm Still Here" by Steven Sondheim
Speaking of
CARRIE FISHER
who wrote the book & the screenplay for POSTCARDS FROM THE EDGE, I just saw her fantastic one woman show,
WISHFUL DRINKING
at The David Geffen Theatre. I highly recommend it. She may have suffered from mental illness & addiction, but she has fashioned that pain into marvelously funny stories about her famous parents, her famous men, & her famous falls from grace. As she says:
"Tragedy + Time = Comedy
!"
ROBIN WILLIAMS
warning
BRITNEY SPEARS
to stay away from
PARIS HILTON
: "
No! Girl! Paris is not your friend. I bought one of my daughters a Paris Hilton Doll & it dragged the other dolls down to her level!"