BABA WAWA is TWO FACED!!!!!!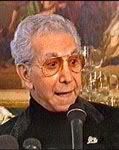 And the hits just keep on coming….
Two new volleys in the Trump vs. Rosie Battle today:

PAGE SIX reported this morning that a hurt & angry Rosie confronted BARBARA WALTERS in the makeup room of THE VIEW. Apparently distressed that BW didn't go far enough in her initial reaction to The Donald's blast, Rosie screamed: "You didn't call me for 10 goddamn days, and you didn't tell me what you were going to say on television!" Barbara said she did everything she could to "squash the story!" To which Rosie replied that Barbara was a "fuc*** liar!"
Ohh it gets better… tonight The Donald issued a copy of a letter he sent to Rosie via THE INSIDER in which among other things, he again accuses Rosie of being "very self-destructive" mocks Rosie's "wife", quotes BW as saying that working with Rosie is "like a living hell" warned Trump "never to get in the mud with pigs"(!) & not to worry because Rosie wouldn't "be here (The View) long!"

A few possibilities:

TRUMP has lost his mind. Madness & ego-mania go hand in hand

Barbara did say all of these things to Trump about Rosie. Barbara is gifted at speaking out both sides of her mouth, which in a face that tight, isn't really all that difficult

Rosie wants out of THE VIEW & is looking to go out with a bang!

Thanks to all of you who've shown the best taste in NOT watching The Apprentice:

Cynics speculated that Trump's in-the-spotlight handling of the Miss USA scandal and his counter-attacks on O'Donnell were publicity stunts for the new season of his corporate reality show "The Apprentice."
But if that was the case, the efforts have failed. Ratings for "The Apprentice" premiere, which aired Sunday night, were dreary.
The program garnered only 9.1 million viewers for a sagging 5.4 Nielsen rating — shockingly low for a season opener of the once popular NBC show and about half a million viewers behind the last "Apprentice" debut. It also dragged in third place in its time slot, according to Nielsen Media Research. FOX NEWS

Poor SUZANNE SOMMERS! She lost her $5 million Dollar Beach House in last night's Malibu fire. Talk about a Phoenix though; nothing, not even this, can keep Suzanne down for long. An ex-con, child of an alcoholic, single mom, sit-com actress, best-selling author,inventor of the Thigh Master & cancer survivor! Her story has so much tragedy they should make a movie out of her life…oh wait!! They already did! A 1991 Movie-of-the-Week called KEEPING SECRETS starring Suzanne as herself!

MR.BLACKWELL has released his annual WORST DRESSED LIST 2006. I can't really see much to disagree with here. In an historic event there is a TIE for first place!:
1. Britney Spears/Paris Hilton
2. Camilla Parker Bowles ("The Duchess of Dowdy")
3. Lindsay Lohan
4. Christina Aguilera
5. Mariah Carey
6. Paula Abdul
7. Sharon Stone
8. Tori Spelling
9. Sandra Oh
10. Meryl Streep

Is HALLE BERRY preggers???? Stayed Tuned!