"The British Are Coming! The British Are Coming!"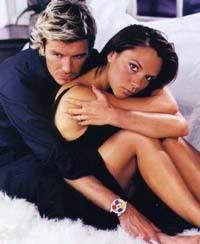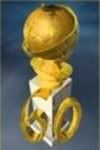 I don't think that this what Paul Revere had in mind but...

International Soccer Superstar, DAVID BECKHAM & his Spice Girl Wife "POSH" are moving to Los Angeles where he'll play for the L.A. Galaxy team. "Becks" contract is reportedly worth $250 million That's a lot of shoes for Posh, since she obviously doesn't spend $$ on FOOD! One alarming thing though, is their new best friends are TOM & "KATE" CRUISE does this portend a conversion to Scientology?? Can't wait to welcome them to L.A.

Los Angeles is fun this time of year. Awards Show Season. All the stars will be in town for Monday's Hollywood Foreign Press Awards, more popularly known as The Golden Globes. This is a really fun event because it is an actual dinner where the booze flows freely & everyone gets hammered & hopefully makes an embarassing acceptance speech. The Globes, for years were never taken seriously as an award of merit, because, back in the day, you could influence the judges & just buy one! That is now changed & a Globe win can be seen as a sign of a future Oscar. One of the Legends of The Globes has famed starlet PIA ZADORA winning a "Best New Star" Golden Globe in 1982 for her work (?) in BUTTERFLY due to the "generousity" of her film producer, financier, husband MESHULAM RIKLIS. So to any losers on Monday night, remember PIA ZADORA has one! Another urban legend about Pia, a former child actress, had her starring in the title role in a production of The Diary of Anne Frank. Her performance was said to be so awful that when the Nazis broke into the house to look for Anne, an audience member yelled out: "She's in the attic!" This story is untrue, but I think hysterical!

MADONNA is making the talk show rounds plugging some kids film or something. On the TODAY show this morning she attempted to defend her friend, ROSIE O'DONNELL. Her response was an inane defense of stand-up comics but the best part is "Madge" felt compelled to mention that she first heard of the Rosie vs. Trump feud "while in the middle of The Indian Ocean!" Ain't she grand?