Hello! My Name is NOAH!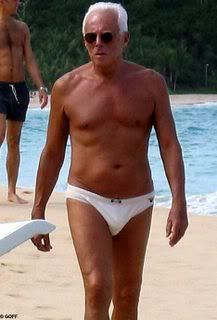 I would have blogged sooner but I've been looking for a pair of walruses…because that is the last animal I need before I set sail on the ARK I've been forced to build. It's been raining for 3 solid days in L.A. This is the amazing thing about living here. It doesn't rain for 5 years…& then we get 5 years worth of rain in 3 days!

Do you love the above photo of GIORGIO ARMANI?? The dude is 72 years old & looks great I think! The original pic appeared on a great website called JUST JARED
Then the whole blogosphere picked it up including The HUFFINGTON POST which ran a headless photo so we could guess the 7O yr old body it depicted. Gio is shown wearing an "Armani Speedo" naturally! And one thing it truly demonstrates is something my mother (Mrs. Trainer) always said: "TAN fat looks better than WHITE fat!" She really was a woman ahead of her time.

And you know I love THE HUFFINGTON POST(or HUFFPO as we say)
The brilliant ALEC BALDWIN (truly) is a blogger there. His piece this weekend refers to a writer named ROBERT ELISBERG. Mr. Elisberg also has a Huffpo piece about the SAG boycott of The Golden Globes. Mr. Elisberg's general opinion of actors is not that high & he tells a funny story about a famous actress.

There's a famous story about a movie written by a legendary, Pulitzer Prize-winning comedy writer. After ridiculing the script during filming, one of the stars finally called out, "Whoever wrote this doesn't know how to write comedy!" -- with the author present. He left, wouldn't do rewrites, and the movie bombed.

Alec, in his piece, outs his former wife, KIM BASINGER, as the above critic. The former Mrs. Baldwin is referring to NEIL SIMON who wrote among other classics, THE ODD COUPLE, BILOXI BLUES, THE OUT OF TOWNERS and a hundred other comedy classics; plays & screenplays, that are hallmarks of comedy genius & that have collectively made millions & millions of dollars with the almost sole exception of THE MARRYING MAN starring…you guessed it, ALEC BALDWIN & KIM BASINGER which bombed big time. You could not make this stuff up.

I really do not want this to turn into some kind of political blog. I will just state for the record, that I am a big supporter of SEN. BARACK OBAMA. And I hope that he rides this incredible wave of CHANGE all the way to 1600 Pennsylvania Avenue. Having said that, I am aware of the difficult road ahead. I was made more aware of it when I attended a really fabulous post-holiday (but pre-Iowa) party last week.
I encountered a beautiful woman of "a certain age" (which is the old fashioned way of saying past 50!) We were stranded at the bar. I learned she built her own very successful business from the ground up. She was interesting so I wanted to keep talking to her…"And whom will you be supporting for President this year?" I asked. "HILLARY, of course!" "Because she's a woman" I asked. "Yes! But I also happen to think she's the best candidate!" "How about you?" she inquired. "Barack Obama" I volunteered. "Reallllllly?" "You do KNOW that he is a MUSLIM & that if he takes the Oath of Office, he'll be swearing on a KORAN?" said Lydia (NOT her Real name) "Lydia!" "THAT is a LIE" "Obama is a Christian and would swear on a Bible!" I said. Lydia wasn't having it. And our brief but volatile friendship came to a quick end. But there you have it! A beautiful, intelligent, successful, white, woman repeating some heinous canard that she read online somewhere as if it were fact! Yea. We're in for a long, ugly haul! But God willing…truth & justice & change will prevail

TheGayGardener's Slogan of "SWEET PEAS & PEACE" has never seemed more meaningful…at least to me!
Labels: Alec Baldwin, Barack Obama, Giorgio Armani, Hillary Clinton, The Huffington Post