Pity Party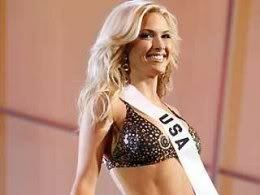 Delaware Senator JOE BIDEN managed to open & close his presidential campaign in a single day! This hair-plugged, "bright-smiled", mystic-tanned idiot, referred to his would be competitor, BARACK OBAMA as an "African American who is (Shockingly!!!) articulate, young, great looking, clean & bright!"

I would LOVE this story if it wasn't so tragic: A young San Diego woman was just convicted of killing her Marine Corp. husband in order to get his $250,000 Life Insurance Policy so she could get her boobs done! She allegedly poisoned her husband with massive doses of arsenic. Then when he did actually die, she had her breasts augmented & proceeded to sleep around as a way to assuage her grief!

Ugh! I am so sick of MISS U.S.A. Tara Conner! She's been all over the news this week because she's fresh outa rehab! A full hour on TODAY with MATT LAUER & also an Exclusive on Entertainment Tonight! So she did coke, drank to excess, had sex with a whole lotta boys & girls, went to re-hab and now of course is blaming it on her "abusive childhood!" But whom can we blame for that disasterous post re-hab HAIRCUT??? Bangs, layers AND A SHAG???? Is the First Runner up Still available???

While we're on the subject of crazy blondes….SHARON STONE told LIZ SMITH she doesn't see what all the recent fuss is about. As she always calls all her gay friends; "Big Fags!" Sharon is so certifiably insane that NO ONE in HOLLYWOOD will work with her! She had to scout The UK for 5 years to find someone to star opposite her in last years major pile o'crap BASIC INSTINCT 2! I'm here to tell you that just because they let you do their hair or makeup doesn't mean they respect you or ever will.

HAPPY BIRTHDAY! & Congratulations to our dear FARRAH FAWCETT who turns 60 (!!!!!) this weekend and just got a clean bil of health from her Doctors! She is Cancer FREE!!!
Soooo hooray for you Farrah darling!

Poor TORI SPELLING!! even her 1st Baby Shower won't be hosted by her mother but by
TUPPERWARE!! TMZ is reporting that fans who feel sorry for Tori are buying up thousands of dollars in baby gifts to send to the expecting Tori because they know her mother has abandoned her!! I think that's sweet! I am also very much on TEAM TORI's side. I've read that the mother/daughter breach occurred because TORI was despondent over her mother CANDY's relationship with a "gentleman friend" even while her father (& Candy's husband AARON) was still living! Three years ago I watched Candy crossing the intersection of CANON DRIVE & Little SANTA MONICA Blvd. in BEVERLY HILLS holding hands with this same gentleman & thought it in very poor taste as Aaron was still very much alive! All the best to you & your new baby Tori!!

As a gay man I LOVE SUPER BOWL SUNDAY!!! Simply because the stores & malls are so empty that TheGayGardener can SHOP in peace!!!