Happily Ever After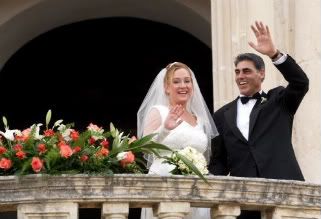 My friends, Laura & Andrea just returned from their honeymoon.
Laura is a small town Texas girl who wanted a simple, dignified, tradtional wedding emphasizing the Spiritual element of Holy Matrimony.
And Sweet Jesus! Did She get it! In a CATHEDRAL in SICILY, with an ANTIQUE HORSE DRAWN CARRIAGE & FIREWORKS (yes, fireworks)
And Yep! Now that I can legally get hitched I want NOTHING LESS than what Laura had!
Well, I'll skip the white dress...white just washes me right out!